New Zealand - Singapore Enhanced Partnership
On Friday 17 May 2019, New Zealand's Minister for Trade and Export Growth, Hon Damien O'Connor signed an upgrade to the agreement between New Zealand and Singapore on a Closer Economic Partnership (CEP).  The CEP, originally signed in 2001, underpins NZ$5.2 billion of two-way trade and $5.1 billion of two way direct investment with Singapore, who are our largest trading partner in the Asia-Pacific region.  However, the world does not stand still and both parties recently negotiated an upgrade to the existing agreement.
The Enhanced Partnership will significantly lift New Zealand's cooperation with Singapore in the areas of trade and economic, security and defence, science, technology and innovation, and people-to-people.  New commitments aim to improve business opportunities for New Zealanders through improved access, modernising trade rules and frameworks to reduce business costs and promotion of strategic alliances.  Enhanced cooperation in the areas of cyber security, border access and defence cooperation will strengthen already established, long-standing relationships, while a comprehensive Science, Technology and Innovation Arrangement will promote innovation and commercialisation opportunities.  Under the STI umbrella, food and nutrition and data science programmes start the collaboration with health security, environmental technology and climate change to follow.  Additionally, refreshed Working Holiday Schemes, education cooperation and arts and culture initiatives seek to extend New Zealand's influence in Singapore by boosting familiarity.
Singapore and New Zealand are both small, like-minded economies that punch above their weight on the world stage.  Working together to upgrade the CEP reinforces the role both play as trade and economic leaders in the wider Asia-Pacific region, serving as a model for others to follow.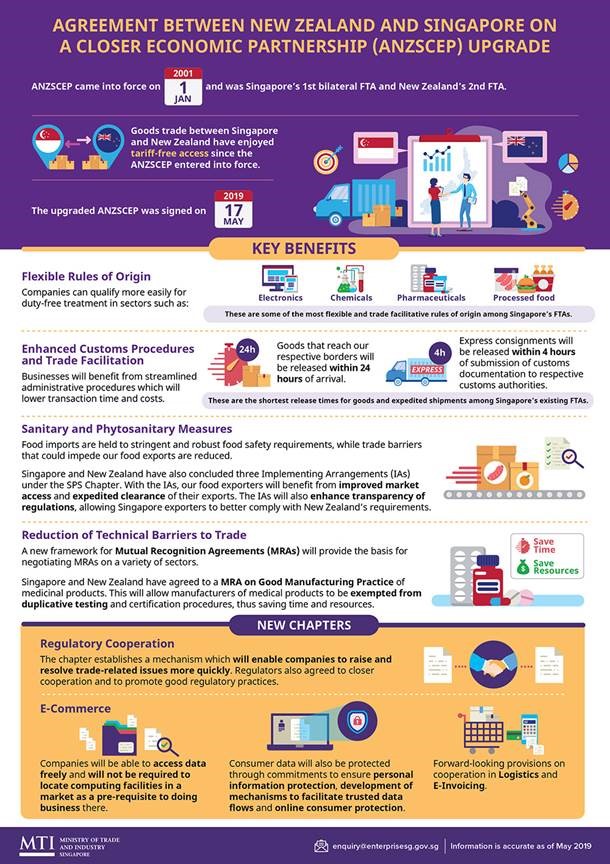 Further information can be found on the Ministry of Foreign Affairs and Trade website